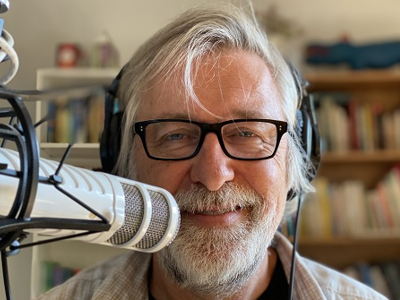 Graduate Program Director
Distinguished Professor
Extension Specialist
don.schaffner@rutgers.edu
65 Dudley RD
(848) 932-5411
(732) 932-6776

Outreach Team
The outreach team includes groups that provide (1) general technical assistance, (2) specific assistance with HACCP plan development and (3) laboratory testing services. We also refer some clients who need assistance with acidified and low acid canned foods (LACF) to process authorities.
If you or your organization would like to be listed on this page, please email Dr. Schaffner, and your contact information will be added.
General Technical Assistance
Food Innovation Center - North
120 New England Avenue
Piscataway, New Jersey 08854
Phone: 856-459-1900

The Food Innovation Center - North is a 31,000-ft. facility operated under constant USDA inspection and is a FDA licensed canning facility. They conduct development, scale up, and short-production runs at their flexible facility.
Food Innovation Center - South
87 East Commerce Street
Bridgeton, New Jersey 08302-2601
Phone: (856) 459-1125
FAX: (856) 459-3043
http://www.foodinnovation.rutgers.edu
This center offers comprehensive expertise in business development, market research, product and process development, workforce development and training, regulations and compliance support, and quality assurance and food safety. Their clients include Farmers and Cooperatives desiring to create new businesses based on value-added agricultural products or considering new markets for their existing commodities; Startup Food Companies coping with challenges such as financing, technology, regulations, market development and other infrastructure requirements; Existing small and mid-sized food companies seeking to access new technologies, upgrade quality assurance capabilities, enter new markets, and expand and improve their operations; and Retail and Foodservice Establishments seeking to improve their operations and purchase locally grown New Jersey products.
Catapult Commercialization Services
phone: (925) 407-5081
leadership@catapultserv.com
Catapult is a nationwide services firm centered on planning & executing projects to commercialize products for food and beverage startups. Services include product/process/package development, marketing, branding, manufacturing (coman & capital), quality, procurement, distribution, and business development.
---
Yundong Chi-Zhang, Ph.D.
Food Safety Research Lab
Tel: (908) 803-0089
Fax: (866) 888-6236
Email: Yundong@aol.com
Dr. Michele Pfannenstiel
Dirigo Food Safety
michele@dirigofoodsafety.com
http://www.dirigofoodsafety.com
---
Many useful services are available from a variety of local testing labs. If your lab is not listed here, please contact Dr. Schaffner (don.schaffner@rutgers.edu) so that it may be added.
Food Safety Research Laboratory
57 Industrial Road, Building B-A
Berkeley Heights, NJ 07922
Tel: (908) 516-2762
Fax: (866) 888-6236
Email: info@fsrlab.com
Garden State Laboratories
410 Hillside Avenue
Hillside, NJ 07205
(800) 273-8901
Fax: (908) 688-8966
http://www.gslabs.com
Marypaul Laboratories, Inc.
P0 Box 952 12 Wilson Drive
Sparta, NJ 07871 USA
(800) 548-1874
Fax (973) 300-9830
Email: info@marypaullabs.com
http://marypaullabs.com
Eurofins USA
+1 515 280 8378
info@eurofinsus.com
www.eurofinsus.com
Merieux NutriSciences
111 East Wacker Drive, Suite 2300
Chicago, IL 60601
(312) 938-5151
https://www.merieuxnutrisciences.com/us/services/food-safety-and-quality
Food-Tek
50 Intervale Road
Boonton, NJ 07005-1056
United States
Phone: 973-257-4000
Fax: 973-257-5555
www.foodtek.com
Sanipure
178-182 Saddle River Road
Saddle Brook, New Jersey 07663-4619
Phone: (201) 843-2525
Fax: (201) 8434934
sanipure.labs@verizon.net
Microbac Laboratories, Inc.
South Jersey Division
104 Ganttown Road
2nd Floor, Suite D
Turnersville, NJ, 08012
Phone: (856) 227.5680
Fax: (856) 227.7057
http://www.microbac.com/

EMSL Analytical Inc.
107 Haddon Ave.
Westmont, NJ 08108
Phone: 800-220-3675 x1218
Phone: 856-858-4766
http://www.emsl.com
Chestnut Labs
720 Warren Rd
Ithaca, NY 14850
Office: 607-241-4117
www.chestnutlabs.com
Covance Food Solutions
55 Hamblin Avenue E
Battle Creek, MI 49017
Phone: 269-565-7700
http://www.covance.com/foodsolutions.html
Libra Technical Center
Analytical & Forensic Services
200 Centennial Avenue, Suite 140
Piscataway, NJ 08854 USA
1.855.441.5200
www.libratechnicalcenter.com
Issi Laboratories Inc
Chemical Identification Services
515 Blue Ridge Avenue
Piscataway, NJ 08854
(732) 246-3930
Food Innovation Center
Analytical Chemistry & Mass Spectrometry
65 Dudley Road
New Brunswick, NJ 08901
848-932-5543
http://foodinnovation.rutgers.edu/AMS2017.html
---
Process Authorities for Acidified and Low Acid Canned Foods

If you make a food product classified as an acidified or low acid canned food (LACF) by FDA or USDA you will need the assistance of a process authority. If you are a process authority, and are not listed here, buy would like to be, please contact Dr. Schaffner (Schaffner@aesop.rutgers.edu) so that you can be added to the list.

New York State Food Venture Center
Cornell University
(315) 787-2273
Geneva, NY 14456
necfe@nysaes.cornell.edu
http://www.nysaes.cornell.edu/necfe/
Chris Balestrini
CGB Consulting Services, LLC
2165 Pioneer Road
Hatboro, PA 19040
Email: cbal24@verizon.net
Mobile: 570-917-3427
David Bresnahan
Bresnahan Thermal Processing Consultancy
dpbresnahan@gmail.com
914-953-3415
PhF Specialists Inc.
Bus: (408) 275-0161
San Jose, CA 95150
phfspec@pacbell.net
http://www.phfspec.com
Tom Ragusa,Thermal Process Technology, Inc.
(630) 961-9987
Naperville, IL 60564
tjragusa@worldnet.att.net

TechniCAL
New Orleans, LA 70123
(504) 733-0300
http://www.tcal.com/

Jason Bolton(jason.bolton@maine.edu) Process Authority who specializes in Smoked Salmon and Seafood Products.
Paul Priyesh Vijayakumar(paul.v@uky.edu) Process Authority.

Pablo Coronel(pcoronel@aseptia.com) Process Authority with expertise in HPP and other novel technologies.

Marco Antonio Leon Felix(marcoelp@lefix.com.mx) Process Authority based in Mexico.

Tristan Laundon(Tristan_Laundon@ncsu.edu) Process authority.